An Aethiopian Drakon is a species of Drakon. According to The Ultimate Guide, the Drakon originated from Africa.
Description
In Greek mythology, the Aethiopian Drakon was the sea monster sent by Poseidon to terrorize the kingdom of Aethiopia to punish Queen Casseiopeia for comparing her beauty to that of the Nereids. To appease it, the princess Andromeda was chained to a rock as a sacrifice until Perseus killed the drakon and rescued the princess.
Drakons on land in Aethiopia are also said, by Greek writers, to be able to strangle and eat whole elephants.
Then there was the little one...

This article is in need of expansion. You can edit it in order to achieve a higher standard.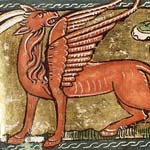 An Aethiopian Drakon is mentioned by Chris Rodriguez and/or a dracaenae on board the Princess Andromeda. They say it is in the cargo hold. Luke later says he is going to feed Percy, Annabeth, and Tyson to it (although he doesn't end up doing so).
An Aethiopian drakon is pushing along the borders of Camp Half-Blood. The borders kept it out, but it wasn't until campers shot it with arrows that it left. It is described as being about thirty feet long serpent with rows of sharp teeth, bright green terrifying eyes.