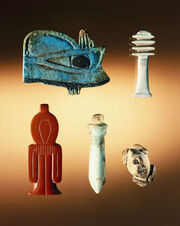 Amulets are usually used to store power for Magicians.
Amulet Making
In the second and third book Walt Stone is a trainee at Brooklyn House (21st nome) Walt is a sau or a charm/amulet maker. This seems to imply that making amulets requires both crafting and magical skill.
Usage
In battle, magicians usually draw power out of the amulet. Zia owns an amulet that changes into a vulture. Carter owns an Eye of Horus amulet and Sadie owns a Tyet amulet. Horus and Isis got in through these amulets. They had to give the amulets because the power was too dangerous.
Protective amulets like the Eye of Horus protect the owner from being made a host of a god without the god receiving permission or invitation. However, if the owner gives unintentional permission the amulet helps the god get in to the body by using the amulet as a medium.
The Ancient Egyptians wore amulets during the Demon Days to protect themselves from bad luck.They wore amulets with the likeness of the protective goddess Bast who is the goddess of the cats. The cats were extremely popular in ancient Egypt and they were believe to kill snakes, scorpions and other nasty creatures.
In Real Life
Amulets were used for many purposes by the Ancient Egyptians
Trivia
The word amulet is derived by the Latin word amuletum, which refers to an object that protects the person.
External links
Ad blocker interference detected!
Wikia is a free-to-use site that makes money from advertising. We have a modified experience for viewers using ad blockers

Wikia is not accessible if you've made further modifications. Remove the custom ad blocker rule(s) and the page will load as expected.