Then there was the little one...

This article is in need of expansion. You can edit it in order to achieve a higher standard.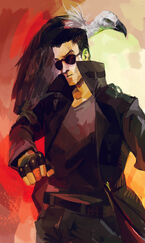 Ares' Backpack is a blue nylon backpack given to Percy Jackson by Ares in The Lightning Thief. The backpack is an altered form of the Master Bolt's sheath, made so that the Master Bolt always returns to it. Ares "tinkered" with the backpack's magic so that the bolt only arrived in it once Percy arrived in the Underworld.
Contents
Ad blocker interference detected!
Wikia is a free-to-use site that makes money from advertising. We have a modified experience for viewers using ad blockers

Wikia is not accessible if you've made further modifications. Remove the custom ad blocker rule(s) and the page will load as expected.