Ares, like all the Olympian gods, has his own temple. In his case, it is the Intrepid, a Military Museum.
Although the temple does not make a formal appearance, it is briefly mentioned as being the temple is where Clarisse La Rue takes her father's chariot after her "Driving Test" as Percy Jackson puts it.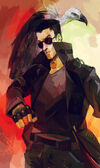 See also
Ad blocker interference detected!
Wikia is a free-to-use site that makes money from advertising. We have a modified experience for viewers using ad blockers

Wikia is not accessible if you've made further modifications. Remove the custom ad blocker rule(s) and the page will load as expected.