Ares' War Chariot is the personal chariot of Ares. It is normally driven by either Ares or his sons Phobos and Deimos, with the exception of Clarisse La Rue. His demigod sons would normally drive it as a test at the age of fifteen.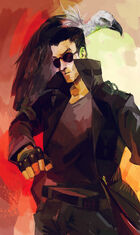 Ares rides on it in the form of a motorcycle when he approached Percy Jackson, Annabeth Chase, and Grover Underwood with his request to retrieve his shield from a tunnel of love ride at Waterland. He's also seen sitting on it as he waits for them at the beach when they escape the Underworld.
Ares' daughter Clarisse is given the test of driving it around for a day, an honor normally reserved for Ares' sons. While she was driving it around, it is stolen by Phobos and Deimos. With the unexpected aid of Percy, Clarisse recovers it and returns it to Ares' Temple on the Intrepid (which is a battle cruiser) before sundown.
Appearance
It is red and gold, and has pictures of people dying painful deaths adorning it. It is pulled by four fire-breathing horses with manes of fire and black in color. Percy attempts to talk to them but they say things so bad he does not repeat. Like Apollo's Sun Chariot, it can become various vehicles, a car, a motorcycle, a tank, etc.