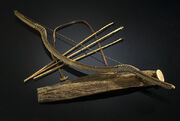 Bows are devices used to launch arrows. Arrows are wood shafts with tips made of Celestial Bronze, Imperial Gold, Silver, or simply regular materials (such as aluminum or carbon).
Appearance
A bow is a curved stick with a string tied to both ends. They are usually made of animal tendon and horn. Arrows are thin sticks with a sharp tip, sometimes a rock or metal arrowhead, with animal feathers to help it fly. The Hunters of Artemis have silver bows and arrows.
Usage
An arrow is pulled onto the string of a bow (nocked). The arrow is then released, the string propelling it into the target.
A quiver often made of wood or leather holds the arrows.
Common Users
Notable Bows
Notable Arrows
See Also
Ad blocker interference detected!
Wikia is a free-to-use site that makes money from advertising. We have a modified experience for viewers using ad blockers

Wikia is not accessible if you've made further modifications. Remove the custom ad blocker rule(s) and the page will load as expected.