The Celebration Kit is a party kit prepared by Hyperion to celebrate the last installment in the Percy Jackson and the Olympians series, The Last Olympian. It is filled with puzzles and games and has not appeared in any book in the series.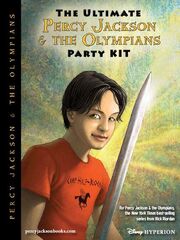 Contents
The kit contains a table of contents which includes the following:
Preparing for Your Ultimate Percy Party
Ultimate Percy Party Discussion Topics
Who Am I?
Medusa's Freeze Tag
The Book of Greek Gods and Goddesses
The Oracle's Time Capsule
Test Your Trivia Knowledge—Mythology Style
My Kind of Typhon
A Mythological Mind-Bender
Percy's Literary Labyrinth
The Starry Night Sky
Answer Key
Links
Ad blocker interference detected!
Wikia is a free-to-use site that makes money from advertising. We have a modified experience for viewers using ad blockers

Wikia is not accessible if you've made further modifications. Remove the custom ad blocker rule(s) and the page will load as expected.