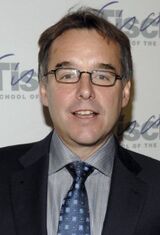 Chris Joseph Columbus (born September 10, 1958) is an American film director, producer, and writer who was Oscar nominated for producer and screenwriter. He was the producer, and director of the 2010 film adaptation of The Lightning Thief and several other films such as, Harry Potter and the Sorcerer's Stone, Harry Potter and the Chamber of Secrets and Home Alone.
He is a producer for the 2013 film adaptation of The Sea of Monsters.
Interviews
Ad blocker interference detected!
Wikia is a free-to-use site that makes money from advertising. We have a modified experience for viewers using ad blockers

Wikia is not accessible if you've made further modifications. Remove the custom ad blocker rule(s) and the page will load as expected.