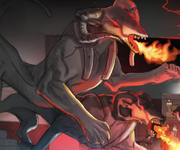 A Criosphinx is a live statue of a sphinx.
Appearence
Criosphinx are obsidian statues that had bodies of lions and heads of rams.
Criosphinxes first appear in The Serpent's Shadow when Apophis tries to use them to destroy the trainees, Carter, and Sadie. 
Then there was the little one...

This article is in need of expansion. You can edit it in order to achieve a higher standard.