Then there was the little one...

This article is in need of expansion. You can edit it in order to achieve a higher standard.
This article is in need of a clean-up.

You can help out Riordan Wiki by re-organizing parts of the article, checking grammar and spelling, and doing other helpful things to correct the article.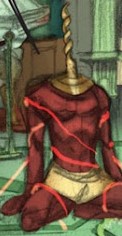 Death-to-Corks is a corkscrew-headed demon that served Vladimir Menshikov for fifty years. He was execrated by his master, Vladimir, in order to summon Set. His execration (death) is watched by Carter and Sadie in Russia.
When Vladimir Menshikov wanted to summon Set, he execrated Death-to-Corks because he needs to power the spell.
References