Demeter's cabin (#4) is the cabin that houses the demigod offspring of Demeter. It was destroyed when the Colossus Neronis attacked the camp. The inhabitants now reside in cabin 11 until the cabin can be rebuilt.
Description
The roof of the cabin constructed of growing grass and has tomato vines growing on the walls. It has wild flowers and roses growing on the porch. The cabin color is a light shade of brown. It is in between Hera's and Athena's cabin.
Inside: There is a grassy floor and an oak tree in the middle of the cabin that holds up the ceiling.
Known occupants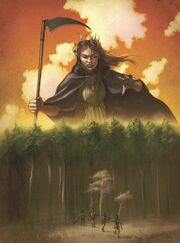 Magic Items
Powers
Ad blocker interference detected!
Wikia is a free-to-use site that makes money from advertising. We have a modified experience for viewers using ad blockers

Wikia is not accessible if you've made further modifications. Remove the custom ad blocker rule(s) and the page will load as expected.