The Draco Aionius is a monster that attacked Camp Half-Blood while Percy Jackson, Annabeth Chase, Clarisse La Rue, Tyson, and Grover Underwood searched for the Golden Fleece due to the poisoning of Thalia's pine tree.
The Draco Aionius attacks the camp during the Quest for the Golden Fleece. It burns down the arts and crafts cabin and fills up the Big House with wounded campers. As a result, the Apollo campers have to work overtime to heal the wounded.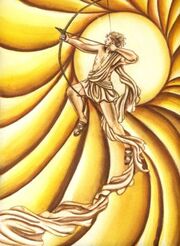 Trivia
All Percy could guess about the Draco Aionius was that it was Latin for "really-big-lizard-with-breath-that-blows-stuff-up."
The Draco Aionius was the only monster mentioned that attacked the camp while the quest was going on.
The book never mentioned the Draco Aionius being slain.
"Draco" means "Dragon" in Latin, the origins of "Aionius" probably comes of "Aionios," a Greek word meaning eternal.