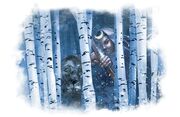 Fart arrows
are trick arrows used by the
Hunters of Artemis
that explode into a cloud of nasty smelling yellow-green smoke, most likely sulfur, when they hit something.
The arrows are used by the Hunters of Artemis in the game of Capture the Flag. Thalia complained that the Hunters using them in the game is unfair.
Purpose
The arrows are very useful for temporarily stunning enemies and clouding their vision with nasty smelling yellow-Greek smoke, whenever they hit something. When Percy describes the smell, he says that they "smell like rotten eggs," the scent of sulfur.
Ad blocker interference detected!
Wikia is a free-to-use site that makes money from advertising. We have a modified experience for viewers using ad blockers

Wikia is not accessible if you've made further modifications. Remove the custom ad blocker rule(s) and the page will load as expected.