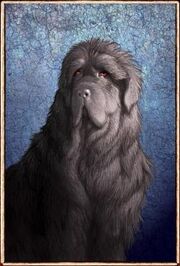 Get the Greek
is a game played and enjoyed by the
hellhound
Mrs. O'Leary
. It involves someone (either
Daedalus
or
Percy
) throwing a stuffed practice dummy in
Greek armor
and Mrs. O'Leary catching it. Mrs. O'Leary shakes it like a frisbee often after catching it. It is derived from the "Get the Stick" game. This is one of Mrs. O'Leary's favorite games to play. Mrs. O'Leary won't try to catch the dummy if anyone, except Percy or Daedalus, throws it.
Ad blocker interference detected!
Wikia is a free-to-use site that makes money from advertising. We have a modified experience for viewers using ad blockers

Wikia is not accessible if you've made further modifications. Remove the custom ad blocker rule(s) and the page will load as expected.