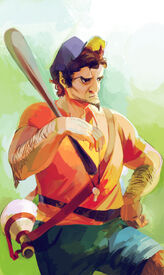 "
Dear Grover,
Woods outside Toronto attacked by giant evil badger. Tried to do as you suggested and summon the power of Pan. No effect. Many naiads' trees destroyed. Retreated to Ottawa. Where are you?
"

–Gleeson Hedge, in a letter read by Percy in The Last Olympian
A Giant Badger was a monster mentioned in The Last Olympian by Gleeson Hedge.
Gleeson Hedge unsuccessfully fought it by trying to call on the power of Pan, but to no effect. The Giant Badger managed to destroy a number of naiads and possibly other nature spirits in the area, forcing Hedge to retreat to Ottawa.