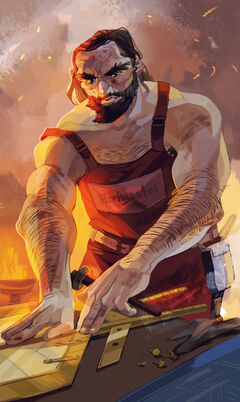 Hephaestus' Throne is a throne in the Hall of the Gods. It is on the males' side of the Hall of the Gods, between the thrones of Apollo and Hermes.
Description
Hephaestus' throne is like a "La-Z-Boy type design covered in bronze and silver gears" and "whirring with secret gears and mechanics" as Percy Jackson describes it. The throne also has a defense system that can shoot electricity and purple energy tendrils.
The throne's defense system was triggered while Percy was fighting Kronos. It shot bolts of electricity in all directions and one hit Kronos in the face when he attacked Olympus.