A legacy is any mortal who is a second or further generation descendant of a god. They tend to possess similar abilities to their godly ancestors. Recognition of Legacies seems unique to Camp Jupiter. It is also stated that various emperors of Rome were Legacies. Only first generation descendants of the gods attend Camp Half-Blood, although Camp Jupiter accepts legacies.
There are probably more legacies than demigods in the world. Many demigods (not just Frank Zhang) are probably legacies as well as half-bloods.
List of Legacies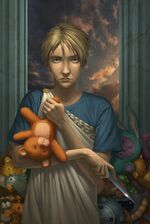 The Julia (gens) of Rome
In ancient Rome, the family (gen) know as the Julia was a powerful Patrician Roman family, who claimed descent of many gods. Some of the famous members of this family include: Julius Caesar, Augustus Caesar, Flavius Julius and more. They claim they trace their lineage back to Romulus, son of Mars and Rhea Silvia, descendants of Aeneas. Others would claim they were related to Aeneas, who lead his people away from Troy and eventually founded the land that would become Rome. Others would sometimes claim to be related to Dardanus, a son of Jupiter and Electra.