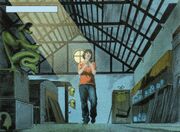 Leroy's sword
was a weapon owned and used by
Greek
demigod
, 
Leroy
. However, the sword proved rather unreliable, as it broke, leading to the death of its owner.
Percy notices it when he first goes into the Attic to receive a quest from the Oracle; the hilt is on a table with a tag attached, reading "This broke and Leroy got killed. 1999."
The weapon does not appear again for the rest of the series, but it is probably still in the attic along with all of the other trophies collected by various demigods over the years.
Ad blocker interference detected!
Wikia is a free-to-use site that makes money from advertising. We have a modified experience for viewers using ad blockers

Wikia is not accessible if you've made further modifications. Remove the custom ad blocker rule(s) and the page will load as expected.