This letter was found in the back of an exclusive The Hidden Oracle edition.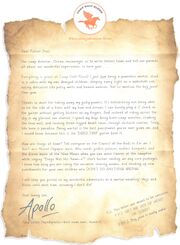 Dear Father Zeus,
Our camp director, Chiron, encourages us to write letters home and tell our parents all about our wonderful experiences, so here goes. . .
Everything is great at Camp Half-Blood! I just love being a powerless mortal, stuck in a cabin with my own demigod children, sleeping every night on a makeshift cot, eating delicacies like patty melts and beanie weenies. Not to mention the bug juice!
Yum, yum.
Thanks so much for taking away my godly powers. It's exhilarating not being able to hit the side of a barn with my bow and arrows. I can barely play a C chord on the guitar without getting blisters on my fingers. And instead of riding across the sky in my glorious sun chariot, I spend my days doing boot-camp marches, climbing the lava wall, and running three-legged death races through obstacle courses. Truly, life here is paradise. Being mortal is the best punishment you've ever given me, and I should know, because this is the THIRD TIME you've done it.
How are things at home? Tell everyone on the Council of Gods hi for me. I don't miss Mount Olympus much. Who needs golden palaces, endless banquets, and the divine music of the Nine Muses when you can make s'mores at the campfire while singing "Bingo Was His Name-o"? Don't bother sending me any care packages. I know how busy you are ruling the universe, chasing women, and thinking up punishments for your children, who DIDN'T DO ANYTHING WRONG.
I will keep you posted on my wonderful adventures as a mortal weakling! Hugs and kisses until next time, assuming I don't die!
Your loving son,
Apollo
(aka Lester Papadopoulos—best name ever, thanks!)
P.S. This letter was meant to be sarcastic.
P.P.S. GET ME OUT OF HERE! I'M SORRY!
P.P.P.S. Bug juice is really awful.