Then there was the little one...

This article is in need of expansion. You can edit it in order to achieve a higher standard.
The Lion Statues are two of the Automaton statues that are in Manhattan.  Usually they stand in front of New York Public Library's Main Branch on 42nd Street.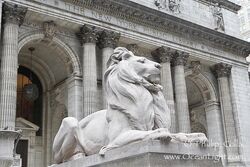 They helped Percy Jackson defeat the Clazmonian Sow during the Battle of Manhattan. However, after killing the sow, the two continued to follow their order to "Kill flying pigs" running down the streets of Manhattan along with the Hermes Statue.
Trivia
They are the only known Automatons to be made of stone.