Logan Wade Lerman (born January 19, 1992) is an American actor, best known for playing the titular character in the 2010 fantasy-adventure film Percy Jackson and the Olympians: The Lightning Thief. He reprises his role in the sequel Percy Jackson: Sea of Monsters. 
Personal life
Logan Lerman was born in Beverly Hills, California, to Lisa Lerman (née Goldman), who is also his manager, and Larry Lerman, an orthotist. He has two siblings, Lindsey and Lucas, who are both older. Logan is Jewish. His parents are both from Jewish families that lived in Eastern Europe. His family owns a prothesis company named Lerman & Son, created by his great-grandfather, Jacob Lerman, in 1915. He has two dogs, named Stella and Bow. He graduated from Beverly Hills High School in 2010. He applied to study creative writing at New York University, but has postponed his attendance due to his acting career.
Career
His film debut was when he played William Martin in The Patriot in the year 2000. He played Charlie Kelmeckis in the movie adaptation of Stephen Chbosky's The Perks of Being a Wallflower, alongside Harry Potter's Emma Watson. He also played Roy Eberhart in the film adaption of Hoot as well as playing d'Artagnan (lead role) in the most recent film adaptation of The Three Musketeers. He also played in Noah (March 2014) and Fury (November 2014). He currently has no known upcoming roles.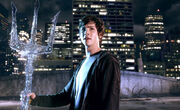 Gallery
Interviews
04:43

Percy Jackson & the Olympians The Lightning Thief Movie Interview - Video Interviews

00:55

Percy Jackson And The Olympians The Lightning Thief (2010) - Interview Logan Lerman "On the story"

Lerman, Pierce Brosnan, & Chris Columbus
Lerman on the story
External Links
Ad blocker interference detected!
Wikia is a free-to-use site that makes money from advertising. We have a modified experience for viewers using ad blockers

Wikia is not accessible if you've made further modifications. Remove the custom ad blocker rule(s) and the page will load as expected.