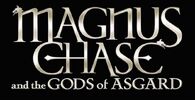 Magnus Chase and the Gods of Asgard is a Norse mythology series by Rick Riordan. The book follows a sixteen year old teenager named Magnus Chase who discovers that he is the son of a Norse god and his quest to stop Ragnarök. The series takes place in the same universe as the Percy Jackson and the Olympians, The Heroes of Olympus, and The Kane Chronicles.
Books
Gallery
Trivia 
References
Ad blocker interference detected!
Wikia is a free-to-use site that makes money from advertising. We have a modified experience for viewers using ad blockers

Wikia is not accessible if you've made further modifications. Remove the custom ad blocker rule(s) and the page will load as expected.