Then there was the little one...

This article is in need of expansion. You can edit it in order to achieve a higher standard.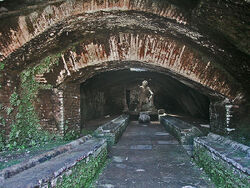 A Mithraeum is a place for worship for the followers of Mithras. They are underground temples in a cavern.
When Annabeth is searching for the Athena Parthenos, she encounters the followers of Mithras. She tricks them into believing that she is the Magna Mater, or Big Mother, and escapes them.