This article is about the magical weapon. You may be looking for the book, The Hammer of Thor.
Mjolnir is still unfinished

This article is still being updated with information. As such, information may be missing or incomplete. Please consult the talk page to see what you can help contribute to the page.

Mjolnir (pronounced "ME-ol-neer"), also spelled Mjølnir,  is Thor's hammer. According to Samirah al-Abbas, it is the most powerful weapon in all of the Nine Worlds.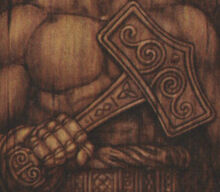 Mjolnir has gone missing, and Thor is still searching for it when Magnus, Samirah, Blitz, and Hearth encounter him in Jotunheim.
Also, it is seen in the epilogue that Loki is holding a hammer pendant, while saying Sumarbrander is not the only trigger of Ragnarok, implying that the pendant might be Mjolnir in an altered form. The hammer can stream shows from Netflix.
Mjolnir has been missing for months and is currently in a dangerous place: Provincetown, where it might have fallen into the hands of a Wight. This later turns out to be a ruse created by Loki in order to obtain the Skofnung Sword as the bride price for the arranged marriage between his daughter Samirah al-Abbas and the earth giant king Thrym. They later learn that Thrym stole Mjolnir to be used as the morgen-gifu for the wedding between him and Samirah and is currently being hidden eight miles under the earth until the wedding. It is summoned into Loki's cavern by Thrym to bless the wedding and later retrieved by Thor when he and the other gods break into the cavern.
Description
The hammer is described as having a head that consists of a trapezoidal-shaped slab of iron with runic designs swirled across the metal and a stubby handle bound in leather. When it is summoned in Loki's cavern, Magnus says that it fills the room with "a smell like thunderstorms." The runes release tendrils of lightning when used in battle by Thor.
Trivia
As of The Sword of Summer, Mjolnir has been lost three times.
It can stream TV shows in HD content.
Mjolnir is said to be the most powerful weapon in Norse mythology.
Thor does not like to admit that he lost his hammer.