Morrain was a hyperborean giant that joined Kronos' army, just like the other hyperboreans.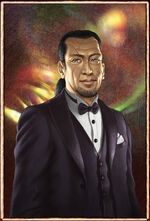 Morrain accompanied an Empousa, Ethan Nakamura, and Prometheus to a meeting with Percy Jackson in which he carried the white flag. Though he is feared by Percy he is also pitied by him, as his attention span is shown to be short, his intelligence even smaller, and his only words to be spoken are "Uh oh". He reminds Percy of Tyson and his childish ways. At the end of the meeting Prometheus calls his name and the group departed back for battle. It is unknown if Morrain participated in the Battle of Manhattan or if he survived the conflict without being sent to Tartarus.
Appearance
Morrain is massive (about 30 feet tall) with blue skin, colorless hair, and bright blue eyes. Huge carnival prize animals hang around his waist.
Abilities
See Also