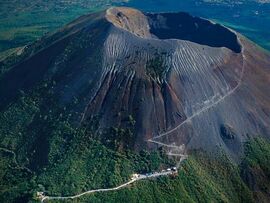 Mount Vesuvius
is a volcano in the Gulf of Naples,
Italy
. Mount Vesuvius is best known for its eruption in AD 79 that led to the burial and destruction of the Roman city of
Pompeii
.
Reyna Avila Ramírez-Arellano, Nico di Angelo, and Gleeson Hedge fall towards the volcano after shadow travelling with the Athena Parthenos and accidentally ending up there. Reyna lends Nico strength and they quickly shadow travel to Pompeii.