Mr. Bonsai was Percy Jackson's principal during his time at Meriwether College Prep.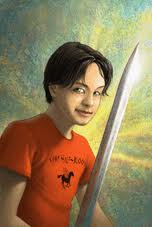 As the Laistrygonians began to destroy the gym with fiery dodgeballs, Mr. Bonsai tried desperately to get the locks on the door to open. Once the giants were all destroyed, Mr. Bonsai managed to get them open and he rushed in with half the faculty and a couple of police officers. When Matt Sloan saw Mr. Bonsai enter, he immediately blamed the destruction of the gym on Percy, which Coach Nunley, who wasn't paying attention, unknowingly agreed to. After looking at the burning room, he questioned Percy about how all this happened. Percy ran from the scene with Tyson and Annabeth Chase and Mr. Bonsai expelled Percy because he had an "un-groovy karma that disrupted the school's educational aura". However, Chiron managed to manipulate the Mist so that Mr. Bonsai wouldn't blame Percy for the explosion.
Known Students
Ad blocker interference detected!
Wikia is a free-to-use site that makes money from advertising. We have a modified experience for viewers using ad blockers

Wikia is not accessible if you've made further modifications. Remove the custom ad blocker rule(s) and the page will load as expected.