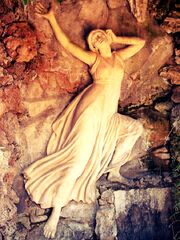 In
Greek mythology
, the
Oreads
, or
Orestiads
, were the
nymphs
that inhabited mountains, valleys, and ravines, and were sometimes associated with the
goddess
Artemis
. They were often classified from where they dwelled; for example, the Idaeae lived in Mt. Ida, while the Peliades were from Mt. Pelion.
While searching for supplies to repair the Argo II, Leo Valdez and Hazel Levesque meet Echo and several other Oreads who are all obsessed with Narcissus.
Ad blocker interference detected!
Wikia is a free-to-use site that makes money from advertising. We have a modified experience for viewers using ad blockers

Wikia is not accessible if you've made further modifications. Remove the custom ad blocker rule(s) and the page will load as expected.