"
Standing at the summit was a mountain god-one of the numina montanum, Jason had called them. Or ourae in Greek. Whatever you called them, they were nasty.
"

–Hazel Levesque describing Ourae, in The House of Hades
Ourae (also known as Ourea) are the Greek Primordial gods of rustic domains and the mountains. Their Roman counterpart is called Numina Montanum.
History
The Ourae were some of the first primeval gods and goddesses born from Gaea. They were also some of the first born elemental beings to come into existence. There were originally ten Ourae, and each one was said to be the god of a certain mountain:
Aitna was the mountain goddess of the volcano of Sikelia (in Sicily, Italy).
Athos was the mountain god of Thrake (northern Greece).
Helikon was the mountain god of Boiotia (in central Greece).
Kithairon was the mountain god of Boiotia (in central Greece).
Nysos was the mountain god of Boiotia (in central Greece).
Olympus 1 was the mountain god of Thessalia (northern Greece), the home of the gods.
Olympus 2 was the mountain god of Phrygia (in Anatolia).
Oreios was the mountain god of Mount Othrys in Malis (central Greece).
Parnes was the mountain god of Boiotia and Attika (in central Greece).
Tmolos was the mountain god of Lydia (in Anatolia).
While the Argo II tries to cross the Apennine Mountains, its crew gets into a conflict with a group of Ourae. Being loyal to Gaea, the Ourae launch rocks and boulders from the tops of their mountain range, causing severe damage to the Argo II. At one point, they hit the mast, causing it to almost crush Nico di Angelo. Leo Valdez is forced to turn away from the mountains in hopes of coming up with a new plan.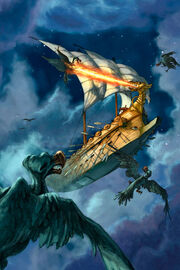 Appearance
Ourae wear simple white tunics over rough skin. Their skin is also very dark, reminding Hazel of basalt. Each one is about twenty feet tall and extremely muscular. Some have long white beards and scraggly hair. Their eyes are very unfocused, making them look like crazy hermits.
Abilities
Ourae are incredibly strong, being mountain gods. They are able to rip chucks of rock from their mountains, shape them into spheres, and toss them high into the air with ease and accuracy.
Trivia
Helikon and Kithairo, two neighboring mountains, entered a singing contest together.
Nysos was the nurse of Dionysus.
Ourae dislike Underworld gods or demigods, as they "get under their skin — literally."
Ad blocker interference detected!
Wikia is a free-to-use site that makes money from advertising. We have a modified experience for viewers using ad blockers

Wikia is not accessible if you've made further modifications. Remove the custom ad blocker rule(s) and the page will load as expected.