Percy Jackson: Sea of Monsters (soundtrack)
Talk

0
Share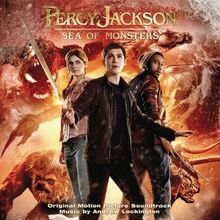 Percy Jackson: Sea of Monsters soundtrack is the soundtrack used in the film adaptation of The Sea of Monsters. The soundtrack was released on August 5, 2013 under the Sony Classical label. It was composed entirely by Andrew Lockington, save the last track which was composed and performed by IAMEVE.
Track List
"Thalia's Story"
"Percy At The Lake"
"Colchis Bull"
"The Shield Is Gone"
"The Oracle's Prophecy"
"Cursed Blade Shall Reap"
"Wild Taxi Ride"
"Hermes"
"Hippocampus"
On board the Yacht"
"Wave Conjuring"
"Sea of Monsters"
"Belly of the Beast"
"New Coordinates"
"Polyphemus"
"Thank Your Brother"
"Kronos"
"Annabeth and the Fleece"
"Rescurrection"
"Percy Jackson: Sea of Monsters - Main Titles"
"To Feel Alive"
Ad blocker interference detected!
Wikia is a free-to-use site that makes money from advertising. We have a modified experience for viewers using ad blockers

Wikia is not accessible if you've made further modifications. Remove the custom ad blocker rule(s) and the page will load as expected.