Then there was the little one...

This article is in need of expansion. You can edit it in order to achieve a higher standard.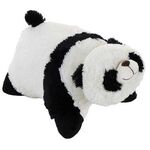 A Pillow Pet is a stuffed animal that can be a pillow or a pet. It becomes an animal when attached with the strap, and becomes a pillow when the strap is removed.
Percy Jackson has a Panda Pillow Pet which is later "murdered" by Octavian when he rips out all the stuffing.
Ad blocker interference detected!
Wikia is a free-to-use site that makes money from advertising. We have a modified experience for viewers using ad blockers

Wikia is not accessible if you've made further modifications. Remove the custom ad blocker rule(s) and the page will load as expected.