Porkpie is one of Blackjack's pegasi friends along with Guido.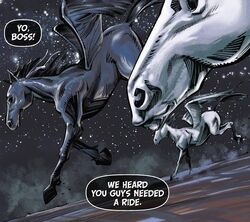 Porkpie helps Blackjack and Guido take Percy Jackson, Annabeth Chase, and Thalia Grace to Mount Olympus from San Francisco, California, near Mount Orthys.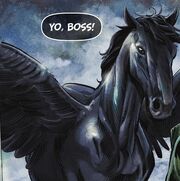 Alongside Blackjack, Guido, and two unnamed pegasi, Porkpie responds to Percy's call to take them back to Camp Half-Blood immediately from Manhattan so that they can warn Chiron about the impending invasion of camp by the Titan Army to destroy camp before waging war on Olympus.