Then there was the little one...

This article is in need of expansion. You can edit it in order to achieve a higher standard.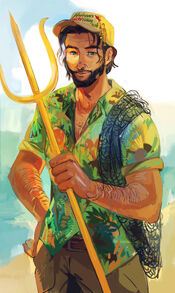 Poseidon's Chariot was used in the Battle of Manhattan to help defeat Typhon. Poseidon arrived in his chariot with a number of Cyclops as well as Briares. This gave the Olympians renewed spirit and as the Cyclops began binding Typhon, the Olympians attacked again, and sent him to Tartarus via a special tunnel Poseidon made just for Typhon.
Description
The chariot is not described in detail other than being very large. It is most likely green or blue. Hippocampi pull the chariot.