Poseidon's Fountain is a fountain that was given to Percy Jackson by Poseidon in The Titan's Curse. Percy cleaves it in half during The Battle of the Labyrinth.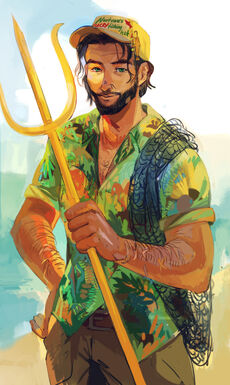 Percy finds the fountain in his cabin while he is visiting Camp Half-Blood during the winter. He uses it to talk to Tyson, his Cyclops half-brother and his mom, Sally Jackson.
Bianca di Angelo sends Percy Iris messages, sending them to the fountain. She uses them to show Percy what her brother Nico is doing. While Nico is summoning the dead, the power starts to affect the fountain, shaking it, and chilling the room. Percy breaks the fountain with Riptide preventing anything else from happening and breaking the connection. Tyson found him sitting by the fountain's ruins. It is unknown if the fountain is ever repaired.
Appearance
The fountain is made of gray sea rocks. Some of the rock is shaped into a fish that spouts water out of its mouth. It is decorated with coral. It has many drachmas at the bottom so Percy can send Iris messages. There is a large crack running through the fountain as of The Battle of the Labyrinth.