Samirah "Sam" al-Abbas is Magnus Chase's Valkyrie and the demigod daughter of Loki.
History
Samirah was born to a doctor named Ayesha al-Abbas and the Norse god Loki. She lost her mother at a young age and lived with her grandparents. They eventually arranged a marriage between her and Amir Fadlan, whom she had a crush on since she was twelve. Her father would visit her from time to time but she would ignore him, much to his frustration.
She attended Malcolm X Middle School, where she experienced racism and was harassed by her classmates because she was Muslim. They called her a terrorist, pulled off her hijab, and put insulting letters and pictures in her locker. When she was fourteen, a frost giant attacked her school. Despite her hatred of her fellow students, she lured the frost giant to the roof in order to protect them and pushed him off the roof. Odin then appeared to her and offered her a place as a Valkyrie, to which she accepted.
Odin would remain in contact with her. Just before Magnus' sixteenth birthday, Odin appeared to her and told her to collect Magnus' soul.
Magnus sees her circling over him like a vulture when Surt knocks him aside. She then dives down to Magnus as he and Surt hit the river. When she is bringing Magnus to Valhalla, she tells him to stop squirming or he'll fall into 'The Gap'. She later comes to Magnus's room to introduce herself. When he asks if his mother is there, she says no. When Magnus says he is no hero, she slams him against the wall and tells him not to say that at dinner. When the horn sounds for dinner, she takes him to the dining hall. While in the elevator she answers some of Magnus' questions and explains to him about the great hall. When he asks about her personal life, she tells him to stop before the other einherjar arrive. During dinner she answers more of Magnus' questions. When she learns that Magnus' death was filmed, she becomes worried. After his video is shown there is an uproar. When her father's name is mentioned, everyone in the hall starts to boo at her. When the Norns reveal Magnus as a son of Frey and give their prophecy, Samirah is expelled from the Valkyries and vanishes in a flash of light.
Desperate to clear her name, she sets out to find the sword. She goes to the funeral home where Magnus's body is. She knocks out Hearth and searches Magnus' body, but turns up empty handed. Magnus, Blitzen and Hearthstone spot her and follow her. When they find her, she attacks them. Sam and Hearth get into a short fight until Magnus disarms her. She says she is not working for her father and wants the sword to become a Valkyrie again. She decides to join forces with them. They go to a dock where Blitz throws Mimir's head into the water to hydrate it. She and Hearthstone bow and she urges Magnus to do the same. Mimir's tells her that Magnus was not meant to go to Valhalla, but his new body could allow him to master the sword. When he offers her knowledge in exchange for her service, she declines, saying her loyalty lies with the All-Father. He then leaves and they talk about it over lunch.
On their way to the food court in the Transportation Building, Sam says she does not trust Mimir. When Blitz says he is wiser than Odin, she says he is only saying that because they work for Mimir, silencing the dwarf. When they reach the food court she is hesitant to eat at Fadlan's Falafels. Amir, the manager's son, recognizes Sam and asks why she was not in school. She lies to him, saying she was getting credit for tutoring 'Jimmy' and his friends in Geometry. He tells her to say hi to her grandparents for him. She tells Magnus that Amir and his father are her relatives. While they wait for their food, a pigeon threatens to make sure they never eat at Fadlan's Falafels again. She, Blitz and Hearth urge Magnus not to cooperate, but he does. The pigeon then turns into an eagle when it brings them their food and eats all but one pickle chip. Sam identifies the bird as a Jotnar. When the eagle takes off with Magnus on him, they follow and find him on the Boston public library. They reprehend him for making the deal, but settle to go fishing.
When they get to the docks and meet Harald, he lets Sam and Magnus take his boat, but not Blitz and Hearth. The four agree to meet at the library later. The demigods pick out a giant bull head as bait, haul it to the boat, and set sail. While at sea, she tells Magnus about her life, how her parents met, and her desire to become a Valkyrie. When they cross into Jotunheim, they throw the bull head over and wait. When they get a bite, it nearly takes them under. She stops Harald from cutting the line and introduces Magnus to her big brother. Sam helps Magnus reel in Jormungand until Ran shows up and demands they release him as if he fully awakes he will flood the eastern seaboard. When she cuts the line and Magnus asks for the sword, she demands his soul in return. When Magnus starts to barter with the sea goddess, Sam aids him. Before Ran leaves she tells Sam that she does not need to be a Valkyrie to fly, as it is in her blood. When they get the sword and apple she wipes a tear from his cheek. When Magnus asks her what Ran meant, she dismisses it. She then goes to the wheel to make sure Harald drops them off in Midgard. When they get back to the docks she heads home to her angry grandparents and agrees to meet Magnus the next morning at the public gardens.
Sam ditches her physics class to meet Magnus, Blitz and Hearth at the ducks in the public garden. While Magnus finds the way to Nidavellir, she, Blitz and Hearth hold off the advancing Valkyries and einherjar. When Magnus opens a rift Blitz goes in first and she and Magnus help Hearth in to the rift. The four climb the world tree until they find a knothole the sword wants them to go through. Hearth gets stuck and before they can free him Ratatosk appears. While Blitz drags Magnus in to the vanishing knothole she and Hearth hide under her hijab.
Hearth aids her while she is recovering from the squirrel's screech. They avoid fighting deer and make their way to Alfheim, much to Hearth's displeasure. They met up with Magnus and Blitz in Nidavellir where they exchange stories. Blitz tells them that he was challenged to a crafting contest by the world's best craftsman, in which the loser is decapitated. At Blitz's apartment he makes them egg rolls. After Blitz tells them more about contest, his feud with Junior and what happened to his father. Sam is shocked at what she hears. After he leaves she asks Hearth if Blitz is any good, he shows them the tanning bed and signs yes but not under pressure. He tells them that dwarves cheat but make it look like accidents, Hearth suggests Sam do what she did on the world tree and she storms off. She arrives after the contest is over and sticks to the back.
When Blitz is declared the winner, they receive the earrings and rope, but discover Junior lied about knowing the location of the Fenris Wolf's island. The old dwarf said that the information was classified but that Thor might know. When Magnus calls Sam, forward Junior identifies her as a shapeshifter and the four run for their lives. When running she, Magnus and Blitz duck into an alleyway. After Freya takes Blitz to get her earrings, the demigods and elf prepare to fight off the dwarves when Sumarbrander talks and fends them off on its own. They meet up with Hearth who leads them to a river going out of Nidaveller. When Magnus collapses and the dwarves find them again, she and Hearth grab Magnus and jump.
Sam wakes up in Jotunheim and vomits after Magnus heals her. They talk to one of Thor's immortal goats, Otis, who has been separated from Thor. Sam suggests they ask Thor where Lyngvi is. On their way to Thor, Sam tells Magnus what Hearth tells her about himself while keeping the elf on the goat. Otis tells them that they were out for a day, much to their shock. When they reach their destination, Otis' brother Marvin tells them that Thor is drowning and that if they fail to save him he will kill them, and it is nice to meet them. Sam watches as Magnus throws Jack at the giantess and is washed into a tree when she dies. Thor congratulates Magnus and invites him, Sam, and Hearthstone to dinner, which is Otis and Marvin.  
Sam sits far away from Thor and does not talk often. When Thor thinks she looks familiar she says she was a Valkyrie. Sam tells Magnus that she does not like to shape shift and tells him her family's history with the Norse Gods and that she can never have a normal life. Magnus promises to help her get everything she wants in her life and the two turn in.  
The four climb to Geirrod's fortress the next day and rest while they decide what to do next. Hearth then summons one of Sleipnir's sons, an eight-legged horse, which she does not want to talk about, especially when Blitz mentions that Loki was Sleipnir's mother. The four mount the horse, dubbed Stanley by Magnus, and the horse jumps off the cliff. She enjoys the free fall. At Geirrod's fortress, she deduces that a swan in the giantesses' captivity was Gunilla. She and Magnus sneak into the room and decide to introduce themselves as guests. When they do so one of the giantesses, Griep lifts them in a chair so they could be heard better, then tries to smash them on the ceiling. They then barter for Thor's weapon and Gunilla. Griep and Gjard agree to do so if they give themselves up and give them Jack. They then say they killed their sister, which tricks them into admitting they were trying to kill them. Jack takes out Griep but Gjard covers her nose and mouth. She attempts to launch a salt shaker at the giantess but Magnus misinterprets it and jumps on the knife and sent it into the giantess' chest, allowing Jack to finish her off. Sam checks on Magnus, who says his leg will be fine in an hour, but Gerriod arrives. When Hearth and Blitz arrive they aid the demigods in getting out of the fortress. They run into the giant and claim guest rights. They begin to barter for Thor's weapon, Gerriod agrees to give it to them if they play catch with him for ten minutes. They agree and he throws hot coals at them. She rouges them and calls Magnus crazy when she guesses his plan. When Gerriod causes the ceiling to fall on himself she dusts herself off and is shocked to see Gunilla holding Blitz hostage. Hearth manages to distract Gunilla while Sam sends her back to Valhalla. She then breaks the lock on the door holding the weapon. Thor arrives and reveals that he knew she was a daughter of Loki, and that he did not dislike all of Loki's children. He then sends them to where they need to be.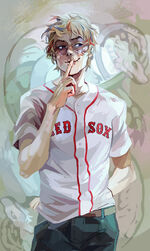 Sam wound up in her bedroom where her grandparents were relieved to see her, and then grounded her. She then appeared at Malcolm X Middle School and saved Magnus from falling. She tells him how she became a Valkyrie and that Odin told her to get him. Magnus then tells her that they were meant to go on this quest and they leave to meet up with Blitzen and Hearthstone.  
She and Magnus meet up with Blitz and Hearth at Long Wharf who tells them the good news about them, the demigods congratulate them. The four then go to find the dwarf brothers. When they find them, Blitz pulls them aside and tells them that the brothers will try to kill them and abandon them. Nevertheless, they buy four tickets. Sam kept her axe out to keep the Dwarves in check. When they dock on Lyngvi, the Dwarves demand their valuables for a return trip, but leave when Magnus says they do not need a return trip. The four then head for the wolf.  
When they meet the wolf she denies that they are related. The Fenris Wolf says he influenced Odin into choosing her to become a Valkyrie. She is tempted to kill the wolf but is stopped by Hearthstone. Gunilla arrives with two other Valkyries and Magnus' hall mates. Sam tries to reason with Gunilla to no avail. Gunilla orders their arrest, but Magnus's hall mates disobey her. Surt then arrives with a small army and threatens to kill everyone. She, Magnus, Blitz and Hearth head to rebind the wolf. She knocks her brother off of Magnus but becomes beaten in the process.  Once the wolf is re-tied she heads to Blitzen and Hearthstone, when the island begins to fade she and the other rush to the shore.
When they arrive at the hotel they are brought to the feast hall to have judgment passed on them. The Thames call her and are about to pass judgment when X reveals himself to be Odin. After Odin explains what he did over the past two years he awards Magnus and his friends and gives Samirah a choice: be reinstated as a Valkyrie, or serve directly under him and go on tough missions with great reward. She chooses the latter. Odin gives her full access to all of the nine worlds. She attends the funeral for the fallen Valkyries.
Six weeks after the quest for Sumarbrander, Sam meets Magnus for coffee at the Thinking Cup and tells him that she has been busy with schoolwork and Valkyrie duty. She tells him that she is taking pilots lessons as a gift from the Fadlans, which Magnus teases her by saying it is a gift from Amir. She tells him that she is meeting an informant but gets word that a hero is about to die. She leaves, missing her informant, who turns out to be Thor's goat Otis. Otis tells Magnus that Thor's missing hammer is in a wight's barrow in Cape Cod.
Sam reaps the soul of her half-brother, Alex Fierro, who gives her a black eye. At the dinner feast in Valhalla that day, Sam accidentally includes a video of her personal life with Alex's death video.
After the dinner feast, Sam and Magnus talk. She tells him that Loki had paid her grandparents a visit, told them everything, and gave them invitations to a wedding he arranged between Sam and an earth giant named Thrym. She also tells him that she told Amir the truth about her life. She is desperate for any way she can prevent the marriage to Thrym. Magnus gives her Otis' information.
The next day, Sam and Magnus fly a winged horse to Cape Cod, where they meet up with Blitzen and Hearthstone. They enter the wight's barrow where, instead of finding Thor's hammer, they find the body of Prince Gellir and his blade, the Skofnung Sword. Gellir and the Draugr come to life and attempt to kill the four, but Sam, Magnus, Blitz, and Hearth kill them all.
Before they can leave with the sword, Loki and Randolph Chase appear, intending to take the sword. Loki, who has control over Sam, wills her to stop breathing, and she falls unconscious. While Magnus is distracted with protecting Sam, Randolph draws the sword and stabs Blitzen with it. Magnus cuts the sword out of Randolph's hand and prevents him and Loki from taking it. Loki and Randolph leave, and Sam wakes up. Hearthstone immediately blames her for Blitzen getting stabbed. Magnus summons sunlight to freeze Blitz in stone to prevent him from bleeding out.
They leave the Wight's barrow. Sam calls an Uber, and they head to the Provincetown Airport. At the airport, Sam calls her flight instructor and begs him to bring his plane up, which he agrees to. While they wait for the plane, she asks Magnus to watch over her while she prays.
The plane arrives, along with Amir. Sam flies the plane to Norwood. Magnus and Hearth, along with the petrified Blitzen, jump out of the plane mid-flight to travel to Alfheim.
While the three of them retrieve the Skofnung Stone to heal Blitz, Sam is busy trying to open Amir's eyes to the Norse world. She decides to take him to see the Bifrost Bridge, with Alex and Halfborn Gunderson as chaperones. Amir is unable to see the bridge until Magnus unknowingly heals his mind.
Sam, Amir, Magnus and Alex go up the bridge to see Heimdall. He informs them that the earth giants are gathering for an invasion, but won't begin until after Thrym marries Sam. She vows to Heimdall, who is the guardian of the sacred marriage bed, that she will never marry anyone except Amir. Heimdall also shows them a message from Utgard-Loki.
Heimdall drops the four of them back in Boston. They head to the Transportation Building food court, where Amir makes falafels while Sam, Magnus, and Alex discuss Utgard-Loki. After they finish eating, Sam agrees to meet up with Magnus and Alex in the morning to travel to Jotunheim. She disappears in a flash of golden light.
The next day, the three of them set out for Jotunheim along with Blitzen and Hearthstone. Sam flies and carries Hearth with her, while Magnus, Alex, and Blitz ride Stanley the eight-legged winged horse.
Sam and Hearth arrive at Utgard-Loki's palace, Utgard Lanes, a day earlier than Magnus, Alex, and Blitz. The giants almost kill them seven times. At one point, when Sam asks for a drink, the bartender drops her into a full beer mug. She is only saved when Hearth uses a rune to crack the glass. They are asked to put Utgard-Loki's cat outside, but are unable to, as the cat is actually an African bush elephant. When they very carefully ask for sleeping bags, the giants seem to comply, but give them curled shavings of titanium instead of sleeping bags.
When Magnus, Alex, and Blitzen finally arrive, the five of them are required to compete against the giants in contests of skill. Sam goes first, challenging the giants to an axe throwing contest. Her competitor is a ten-year-old cross-eyed giant named Little Billy. He throws his axes flawlessly. Sam, however, throws her axe at him, deducing that he was not a giant; he is Fear itself. She wins the contest. After Blitz, Hearth, Magnus, and Alex win their contests, Utgard-Loki agrees to give them the information he promised. He tells them that the wedding is a rouse made to get Loki the Skofnung Sword and Stone to free himself. Sam also realizes that they will not get the hammer back, as the gift to the bride is given the day after the wedding. Utgard-Loki gives them to options, die on the spot or find the hammer themselves, before the giants attack.
As the giants come closer, they are saved by the goddess Sif and brought to her home in Asgard. She and Alex are both uneasy as Sif and Loki have a bad relationship. For most of their conversation she has her fingers on her axe. The goddess tells them where to find Thor and what she can give them in return for finding the hammer. She then sends them to tell Thor about the hammer. The thunder god thinks she has volunteered to marry Thrym to get the hammer back and she tells him no, but Alex volunteers to take Sam's place as the bride. While she thinks the plan is risky, she agrees to it after talking with Alex. She, Alex, and Magnus stay with Thor and Sif while Blitz and Hearth gather einharjar for the assault. At breakfast she talks with Magnus while Alex is getting ready. He tells her that she is the bravest person he knows and she invites him to her real wedding. When Alex returns she goes to change into a dress similar to Alex's bridal gown. She laughs at Magnus in his tuxedo and they head off to the wedding.
The three meet up with Marvin and Otis and head to bridal veil falls. They are greeted by Thrynga and Magnus introduces her as Prudence, much to her annoyance. After a long journey they arrive in a barroom. As Thrynga orders the bar to be cleaned for the feast, she, Alex and Magnus see if they can find the hammer. She talks for Alex during the feast and us shocked to learn that the ceremony will be held in Loki's prison. When they arrive, they are greeted by her father, who asks Alex to lift the veil to ensure it is Sam, luckily Alex shape shifts to look like Sam and Loki believes it, thinking that the real Samirah is Alex. Soon after that her father requests for their special guest to come forth. Revealing Randolph Chase. During the ceremony she is nervous about their cover being blown.When Alex attacks Thrym, she uses her spear and charges at Randolph before her father commands her to stop. When hearth encases Loki in ice, she runs towards Loki and Randolph but is stopped by the giants. While she was destracted Randolph frees her father. She watches as her father kills the venomous serpent and commanded her and Alex to die. After the battle she is angered that Loki escaped.
Back at Valhalla, she is to distracted by her father's escape to enjoy the feast. Helgi invites her and her friends to his office. The manager says that if Loki can be captured and rebound, Ragnarok can be delayed. He tasks her and her friends with doing so. After the meeting she is briefed by Odin's ravens on the mission at hand. In the morning she invites Magnus for coffee. She tells Magnus what the ravens have shown her, that her ancestor encountered Norse gods on his travels and that they must sail to Scandinavia by midsummer. She also tells him that she will retire from her Valkyrie duties after Loki is recaptured. She wants to go to college, get her pilots license and marry Amir.
After the events of The Hammer of Thor, Sam goes on a quest to delay Ragnarok with Magnus, Halfborn, Mallory, Alex, Hearthstone, and Blitzen. During which she is fasting and cannot eat, and take place in any violence, unless it dangers her greatly. In the quest, Magnus comments while flyting Loki, that Sam outflew the giant Baugi, and delivered Kvasir's Mead to the crew on the ship, and fasting for Ramadan while doing all of this. She also ate most of the food rations during the quest.
Physical Appearance
Sam is Arab-American. She has long brown hair. Magnus described her eyes as the color of redwood bark, somehow dark and bright at the same time (greatly resembling those of her father Loki), like the ammonite fossil his mother once had. She wears a green hijab draped around her neck.
Personality
Sam is fiercely loyal to her friends and family. She is a devoted Valkyrie but at the same time, she wants to live a normal life. She loves her grandparents and hates to lie to them. Sam is determined as she demonstrated when she was desperate to find the Sword of Summer to become a Valkyrie again.  
Abilities
General Abilities
Axemenship: Sam is skilled in axe-wielding and uses one as her primary weapon. 
Alf Sign Language: Since meeting Hearthstone, Samirah has learned ASL. 
Old Norse: Sam is able to understand and read Nordic Runes, as she demonstrated in the Wight's tomb in Provincetown.
Arabic: Samirah can speak Arabic, as shown when she was praying at the Provincetown Airport.
Mathematics: In The Hammer of Thor, Sam is stated to have mastered calculus and trigonometry.
Demigod Powers
As a daughter of Loki, Sam has the following abilities:
Monster Sense: Sam is able to sense the location of powerful monsters. She used this, when fishing for her half-brother, Jormungand.
Shapeshifting: Samirah possesses her father's ability to change forms. She used this power to turn into a deer to save Hearth in the World Tree Yggdrasil, and then into a horsefly to sabotage Junior's work. When fighting Fenris Wolf, she turned into a lion. However, whenever she uses this power, she loses herself and feels her father taking over. Due to this, she rarely uses it.
Valkyrie Abilities
As a Valkyrie, Sam has the following abilities:
Flight: As a Valkyrie, Sam is able to fly.
Magical Items
Axe: Sam's axe is made out of bone steel and she uses it as her primary weapon.
Swan Cloak: As a Valkyrie Sam has a swan Cloak, a piece of cloth that can hide her and one other person via camouflage. She wears it as a hijab. 
Spear: Samirah is skilled with the spear of a valkyrie. 
Relationships
Love Interest 
Amir is Sam's betrothed. She has had a crush on him since she was twelve and blushes when she is around him or when someone mentions him. The Hammer of Thor reveals the feelings are mutual. After her father betroths her to a giant, she decides to reveal her secret life to him which he eventually accepts. In The Ship of the Dead, they are together.
Family 
Maternal Grandparents
Jid and Bibi took in their granddaughter when her mother, their daughter died. They arranged a marriage between her and Amir Fadlan. Sam cares for her grandparents and hates lying to them. 
Sam thinks her mother was rebellious, a trait she inherited from her. 
Sam distrusts her father and ignores him when he visits her.  
Sam is on relatively good terms with her half-sister/brother. Originally they were not very close due to a misunderstanding when Sam brought Alex to Valhalla. Yet they seemed to have bonded since then with Sam trusting Alex. She seems to be slightly envious of Alex's ability to resist Loki.
Friends 
Sam brought Magnus to Valhalla. The two agree to help each other find the sword. She tells him about her life and they grow closer during the quest for the sword of summer. 
When they first met, Sam knocked the elf unconscious while she searched Magnus' corpse for the Sword of Summer. During the quest for the sword, they were separated from Magnus and Blitz. As Sam knows ASL, Hearth told her about his past. 
While the two have not had much interactions with each other, they consider each other close allies.  
Etymology
Her last name al-Abbas means "the lion".[1]
Trivia
Samirah is Muslim.[2]
She is a sophomore at King Academy.
It is mentioned that Samirah's biggest dream is to fly and she tells Magnus that she would like to be a pilot when she grows up. Magnus admits she would be the first Arab-American woman to be a pilot.
Samirah has been visited by her father Loki several times over the years, yet she has always refused to speak to him.
Samirah is similar to Sadie Kane

Both are preteen/teenage girls with powers (Sam being a demigod and Valkyrie whilst Sadie is a Magician).
Both lost their mothers (Ayesha and Ruby Kane).
Both are raised by their maternal grandparents (Jid and Bibi, Mr. and Mrs. Faust).
References