Sean Bean (born April 17, 1959 in Handsworth, England) is a British actor who plays Zeus in the film The Lightning Thief. He is most notably known as Richard Sharpe, the titular character from the TV film adaptation, Sharpe's Peril and as Boromir from The Lord of the Rings. He is also known for his film work playing such roles as Alec Trevelyan in GoldenEye, Jason Locke in Essex Boys, Odysseus in Troy, Ian Howe in National Treasure and Andy McNab in Bravo Two Zero. Bean has also acted in a number of television productions and character roles such as playing Robert Aske in Henry VIII and Eddard Stark in HBO's Game of Thrones.
External Links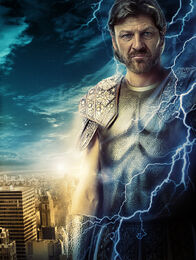 Ad blocker interference detected!
Wikia is a free-to-use site that makes money from advertising. We have a modified experience for viewers using ad blockers

Wikia is not accessible if you've made further modifications. Remove the custom ad blocker rule(s) and the page will load as expected.