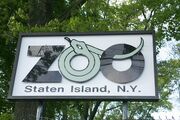 Staten Island Zoo
is an island based, small urban zoo in New York. It has been accredited by the Association Zoos and Aquariums since 1988.
Clarisse La Rue and Percy Jackson are trying to fight off Clarisse's immortal half-brothers, Deimos and Phobos. They ended up at Staten Island Zoo after Deimos mentioned that Ares' chariot was "in a small zoo" (driving Ares' chariot was a test for all of his offspring). When Percy and Clarisse arrived, they were confronted by the two immortal brothers which ended up in a massive brawl. This ended with Percy saying "They may scare you, but they are wimps when it comes to fighting."
Ad blocker interference detected!
Wikia is a free-to-use site that makes money from advertising. We have a modified experience for viewers using ad blockers

Wikia is not accessible if you've made further modifications. Remove the custom ad blocker rule(s) and the page will load as expected.