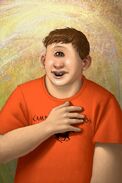 Tyson's Javelins
are
javelins
made by
Tyson
the
cyclops
. He made two of them to be used in the
Chariot Races
by
Percy Jackson
and
Annabeth Chase
.
Description
A javelin is a light spear designed primarily for casting as a ranged weapon. The javelin is almost always thrown by hand, unlike the arrow and the slingshot, which are projectiles shot from a mechanism.
Features
Tyson's javelins have three buttons on them.
The first button causes the javelin to explode on impact, causing razor wire to shred the wheels of another chariot.
The second button made a blunt, but very painful spearhead, designed to knock a driver out of the chariot.
The third button made a grappling hook that could lock onto things.
Ad blocker interference detected!
Wikia is a free-to-use site that makes money from advertising. We have a modified experience for viewers using ad blockers

Wikia is not accessible if you've made further modifications. Remove the custom ad blocker rule(s) and the page will load as expected.