So as many of you have heard I was one of the 26 admins invited to Wikia's first inaugural "Community Connect" event, which was held at their headquarters in San Fransisco. You can read more about it from this blog post here.
Originally, I was just going to do a little write up with the notes I took from the event, but I decided I would do this more as a ~travel~ blog because it was my first time in the expensive great state of California.
Day 1
Brandon Rhea escorted us from our hotel to which was a pretty nice. Turns on SF is kind of windy. Also turns out that I don't walk a lot because I was like super winded after a 20 minute walk. We ended up making some really cute name tags with our real names and usernames. Sometimes I would forget people's real name and referred to people as their usernames, oops.
The office is super nice and I didn't take any photos of it, but they posted some on FB so you can go find it for yourselves there.
So I have some notes from the first day. I really only took things that I cared about to be quite honest. Wikia has posted all of the videos of the event online for the wiki that was created. You can see them all here. I also tried to link the videos in the titles as I went along.
Discussions
Wikia is going to create something that will hopefully replace forums in the future and it is called Discussions.
Discussions will be released for mobile first

Mobile devices will be important for the future of Wikia in whole.

They are currently in the trial phase for it, but we were given an app to try out and it seems hopeful!
They are currently testing the moderation tools.
Moderation tools, categorization, search, and different discussion types
Problems of custom JS:

Security and mobile support
Breaks the default Wikia

Why is it insecure?

Phishing (tricked users)
Cooking reading or dropping
"Drive-by download"
Computer hijack or browser highjack

Beta for the JS review tool was released for certain communities. You can read more about that here.

Unlimited editing before the code is served, and then test mode will allow it to be verified and then wiki staff will review all JS submitted for security reasons
Will have a reason for being rejected whenever you do it.
INFOXBOXES
Here's the video because I couldn't figure out how to summarize it, lmao.
Then we had our our "personal" schedule and we could choose which one to go to. I chose community building since we have a fairly small community and thought we could learn about from it and improve on it. The lovely Sannse and ForestFairy were in charge of it.
Seven C's of communication: Concrete, clear, concise, courteous, complete, correct, coherent.
Organizational barriers

"The admins are always right".
"You must edit the wiki to use the chat." we shamelessly had this
"Newbies don't know anything."

Psychological and behavioral barriers

Selective perception
Assumptions
Poor listening
Emotions
Bad behavior/attitude

Counter psychological barriers

People may have different problems, don't know what their world view is.
We had a party after it and I got to talk to a lot of staff members and learn more about them! We had a "selfie" contest and I got to take a picture with Sannse's Dog, Daisy, who I happen to love.
DAY 2
SEO (SEARCH ENGINE OPTIMIZATION) HEALTH
SEO is how to increase traffic and sight visibility. Basically whenever you type in "Percy Jackson" into a search bar, what comes up first. the god damn movie We are currently 5th if you look it up now!
Accessibility

Robots.txt
Redirects
Server Responses
Hreflang

Other important stuff

LINKS ARE IMPORTANT, but they said overlinking isn't needed.
And renaming image files are important too. Do not upload an official photo as 87o3iyulhjkrfasd;fyasdf.jpeg.
The app is listed under Special:CuratedContent (mainly for me to remember, lol).
Future: Discussions open beta should roll out September 23rd

Continued interaction: moderation, editing, images, profile features.

Our app currently has 21k downloads and most of them are from android.
I fixed the current curated content because the old one sucked.
You can download the app for IOS here and the Android here.

If you read the reviews for the android, users think that we are gonna give them the eBook for free, lmfao.

Please give me current feedback on the content that is on there.
There's a discussion about changing our name on the app to Riordan Wiki with admins.
PRODUCTS

Where do ideas come from?

Users, problems in current wiki product, employees.

Insights

Insights has been mainly positive and people still want more.
Some people have never even touched it.
WAM

Based off edits and views
Changes daily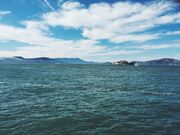 Day 2 was super short session wise because Wikia ended up going to Fisherman's Warf and it was so windy :c. Other than that I saw otters and jelly fish and sea lion and then took us out to eat the Hardrock Cafe. Then we after that we #bonded, walked around SF (not past the "red" line) where I ended up dropping $60 on plushies in the Disney Store. I also learned that some Spanish admins had read the Percy Jackson series and learned that one of the Star Wars admins was a big fan of it! I also bonded with someone who's been on the CHBRP wiki who knew who Ghost was and about how he was the worst human being to ever exist C:
DAY 3
I didn't take notes for some odd reason because most of the sessions were pretty short, and we had 1 on 1 sessions testing new tools and talking to people what was important to us.
I also talked to Sannse who told me she remembers the #Darkages of this wiki, which included when she had to create a separate wiki for people who believed the gods were real and I don't think I've ever had so much secondhand embarrassment for the history of this wiki.
Talked about how users use their profiles

Music (autoplay why)
Images
Likes and dislike
What they can help you with
Links to websites

Suggest added tools were like tags telling people what you are good at one this wiki. i.e. "This user is good at coding etc" so admins don't always have to direct people if they can't help you.
I suggested the ability to turn off certain achievements (i.e. making a blog post achievements)

Most admins agreed they hate achievements and told staff that, lol.
Anyway, that was basically the whole entire thing. I had a lot of fun and would totally do it again. If anyone is ever invited, please go! I had a lot of fun bonding with the other admins who also share the pain.