Welcome
Welcome to the Olympians Wiki

The Percy Jackson and the Olympians is the wiki all about the internationally popular and successful series Percy Jackson and the Olympians!

Here are some links to get you started:

Recent changes allows you to view any new or recent activity done on the wiki.
Random page allows you to view a randomly selected article from the wiki.
Questions? If you have any questions feel free to leave a message on the Help desk or on the talk page associated with each article, or you can send a message to anyone's talk page.
Need Help? Then it is suggested that you visit the Community Portal. It has an outline of the site, and pages to help you learn how to edit.
Make sure to log in every time you edit, so that we can recognize you!

Good luck! We hope to see great things from you in the future!

— -- Balistic Pve (Talk) 12:00, May 11, 2010
Half-Blood Announcement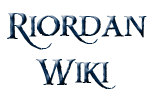 What's going on?
Hey! Are you feeling a bit overwhelmed with all the new changes going on here at the wiki? Well, here allow me to explain it step by step!
First, there are new Forums. Mainly, there's an Admin's Noticeboard and a Consensus. At the first, you notify the admins or request a admin-only task. At the second, you make and vote on new proposals for the wiki. Make sure you meet the requirements, though!
Next, there are tons of new policies, you don't have to read them all now but they're all right here, in case you want to take a peek later on.
Third, we now have an IRC Channel! #wikia-halfblood on freenode. No idea what that means? Well go here to find out and to know some rules of the channel.
Lastly, we now have Wiki Cabins. What's that? Well, they're like the Cabins at Camp Half-blood. Each Cabin has a job to do, and is headed by a counselor elected for half a year. But, you have to apply to join, don't worry it's not hard. We just make sure that we have the right people in each cabin, rather than some newer users who might still be getting used to the wiki. You can join the Apollo, Ares, Demeter, and Hermes Cabin here. And yes, you can be part of as many cabins as you want!
If you have any more questions, anything, just feel free to ask us!
Riordan Wiki Announcement
Template:IRC Alright, it's about time, we try this again. Last time, we had some troubles. This time our community has grown and is still growing. So, it's time we coordinate.
On August 2nd from 1 PM (East Coast), we will be having an IRC Meeting. Here's a list of what we'll be going through:
More Admins
Wiki Cabins
Some Key New Policies
General Chit-chat
Any Other Proposals you might have
As last time, the point of the entire thing, is for us all to get on IRC and chat over the wiki. Here are local times:
Washington DC (East Coast): Mon 1:00 PM
Houston (Central): Mon 12:00 Noon
Denver (Mountain): Mon 11:00 AM
Los Angeles (West Coast): Mon 10:00 AM
London (United Kingdom): Mon 6:00 PM
Paris (France): Mon 7:00 PM
Sydney (Australia): Tue 3:00 AM
I hope everyone can make it! If something doesn't work out, please let me know, and I'll try to adjust things.
It is very important that everyone tries their best to show up! See you all there!
Hi
Hi, I'm new to this wikia. My username is Nightfern. How do you think this wikia is? I don't know how to make a signature. LOL. Do you? Nightfern